GTGC #233 American Gangster
15
Sep
Hello and welcome back to your favorite film analysis podcast as we continue our Denzel Watch-a-thon with the 2008 gangster biopic, American Gangster.
First You Get the Money, then the Power, then you watch American Gangster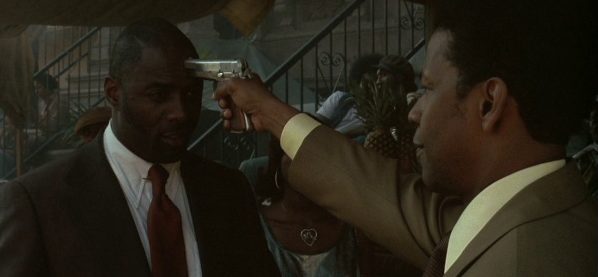 On this week's show, the gang gather around to talk about Ridley Scott's Godfather-esque gangster drama. Based on a true story, American Gangster tells us about Frank Lucas (Washington). Frank starts as a driver/collector-of-debts for local crime boss Bumpy Johnson. After Bumpy passes away, Frank looks to make a mark on Harlem. He soon moves into the Heroin business and creates a drug dynasty, and—according to the film—he becomes something of a folk hero. Frank's story is paralleled with the story of Richie Roberts. Richie is the head of a narcotics drug force trying to stop the use of heroin in New Jersey/New York.
Having discussed Denzel's work with Tony Scott, the gang thought it appropriate to talk about the collaboration with Ridley—Tony's brother. While Dalton and Arthur had previously seen American Gangster, this was Dustin's first watch. Throughout the show, they discuss the differences between the theatrical and director's cuts of the film. There is also much discussion about adaptation—specifically in regards to adaptation of true events. The hosts also question the approach of making Frank into a folk hero, as the film does.
But, before all of that analysis, the gang plays a game. In honor of the marathon, the hosts rundown their Top 3 Denzel Movies that Missed the #ABWD Cut. And when it is all said and done, they decide whether it is shelvable or simply trash—the results may surprise you.
GET IN TOUCH
If you haven't yet, you can connect with us through our various means of social media. Also, it would mean a lot if you left a review on iTunes after you finish subscribing.
Like our page on Facebook.
Follow Us on Twitter.
Subscribe and Review us on iTunes.
Share
|
Download(

Loading

)