GTGC #225 A Time To Kill
19
Jul
Kill Some Time Talking about A Time to Kill
A Time to Kill is a great example of the 90's explosion of courtroom dramas and Dalton and Dustin are here to put it on trial technically and thematically.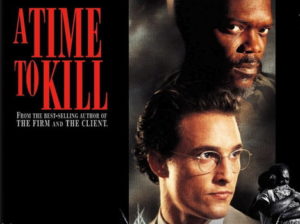 According to Wikipedia:
A Time to Kill is a 1996 American crime drama film adaptation of John Grisham's 1989 novel of the same name, directed by Joel Schumacher. Sandra Bullock, Samuel L. Jackson, Matthew McConaughey, and Kevin Spacey star, with Oliver Platt, Ashley Judd, Kiefer and Donald Sutherland, and Patrick McGoohan appearing in supporting roles. Set in Canton, Mississippi, the film involves the rape of a young girl, the arrest of the rapists, their subsequent murder by the girl's father, and the father's trial for murder. The film was a critical and commercial success, making $152 million at the worldwide box office.
Now we realize that this makes two Schumacher films in a row, but this is very different from last week's Flatliners. We talk all about justice, race, Black Lives Matter, and even O.J. Simpson. This week our game is our favorite courtroom dramas. What are some of yours?
GET IN TOUCH
If you haven't yet, you can connect with us through our various means of social media. Also, it would mean a lot if you left a review on iTunes after you finish subscribing.
Like our page on Facebook.
Follow Us on Twitter.
Subscribe and Review us on iTunes.
Share
|
Download(

Loading

)